---
Tripur Kshatriya Samaj
Executive Body of Samaj for 1422-25 Tripura era (2012-15)
---
---
We, the Tripur people, who belongs to warrior or Kshatriya race of the Manikya Dynasty of erstwhile Tripura Kingdom formed the Tripur Kshatriya Samaj, that is the Tripur Warrior Society. We are a group of altruistic dedicated Tripuri people who are determined to preserve the rich culture, customs, religion, rituals, heritages, the golden tradition, the music, the folk songs, the folk dances, the weaving and the rich cuisines of the Tripuri.
Our main aim is to spread the true information about Tripura, of its ancient, of the past, of the present and about the Tripuri people, the native of Tripura.
We want to let the whole world know that Tripura was originally the land of Tripuri people, who lived here from the times of the Ramayana and the Mahabharata.
The goal is to walk hand in hand with rest of Indians as a developed people, to spread the Indian culture spread all over the world. We make the Tripuri people feel proud of their golden heritages where ever they go in the world and can held their head high. We want to take to height the Tripuri vis-à-vis Indian culture in the international arena.
The Executive body of the Society for the year 1422-25 Tring (2012-15 AD) are as follows:

President: Sh. Dilip Kanti Debbarma
Vice President: 1.Sh. Binode Debbarma
2. Sh. Arun Debbarma

General Secretary : Dr. Partha Debbarma
Asst. Gen. Secretary: 1. Sh. Purna Chandra Debbarma

Organizing Secretary: Sh. Madhusuan Debbarma
Secretary Incharge Khowai: Sh. Dinesh Debbarma
Secretary Incharge Teliamura: Sh. Swapan Debbarma
Secretary Incharge Sadar: Sh. Dipendu Debbarma
Secretary Incharge Bishalgarh: Sh. Uttam Debbarma
Secretary Incharge Kamalpur: Sh. Parimal Debbarma
Secretary Incharge Kailasahar: sh. Bimal Singh Debbarma
Secretary Incharge Udaipur: Sh. Parikshit Debbarma
Secretary Incharge Amarpur: Sh. Chitta Debbarma
Finance Secretary : Sh. Pramode Debbarma
Legal Adviser: 1. Sh. Arup Debbarma

Bhandari: Sh. Subhendra Debbarma
Spokesman: Sh. Sebabrata Debbarma
Publication Incharge: Sh. Madhusudan Debbarma
Doctor Cell Incharge: Dr. Biswajit Debbarma

Cultural Secretary: Sh. Nripen Debbarma
Assistant C Secretary: 1. Smt. Tarubala Debbarma
2. Sh. Nripendra Debbarma

Lady Representative: 1. Smt. Bisurani Debbarma
2. Smt. Dipali Debbarma
3. Smt. Bisurani Debbarma
Executive Members: 1. Sh. Aniket Debbarma
2. Sh. Kishore Debbarma
3. Sh. Kartik Debbarma
4. Sh. Buddha Debbarma
5. Sh. Susanta Debbarma
6. Er. Jugal Debbarma
7. Sh. Sukhamoy Debbarma
8. Sh. Ashok Debbarma
9. Sh. Jawarlal Dbbarma
10. Sh. Subodh Debbarma
11. Sh. Debabrata Debbarma
12. Sh. Ranjit Debbarma
13. Sh. Sanjit Debbarma
Logo of Society
<![if !vml]>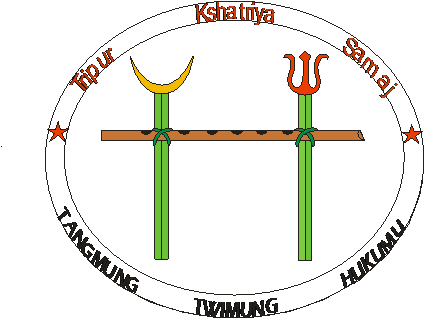 <![endif]>
Motto : Society Religion Culture
Meaning of logo: 1. The Crescent symbolizes the Lunar race origin of Tripuri people.
2. The Trident symbolizes the Saivism sect of Hinduism which is Tripuri peoples religion.
3. The Wathop symbolizes traditional of Tripuri people time since immemorial.
4. The Flute symbolizes the rich cultural heritages of Tripuri people.
5. The Red stars are symbol of eternity of Tripuri race.
6. The Circles symbolizes the wholeness and all inclusiveness of all people.
ম' তিপ্রাসা নি চানাইমা web site. জতন' খাপাং নি হাম জাকমা য়াফার'. তৗক.
For farther detail please contact at tripursamaj@yahoo.in