HOJAGIRI
The goddess of Paddy and wealth is Mailuma in Tripuri mythology. This Goddess Laxmi had in fact originated from the Tripuri people's mythology. This goddess is unknown to ancient religious texts, like Veda, but later introduced in Purana or Upanishad etc. Worship of goddess Mailuma or Laxmi is known as Hojagiri in Tripuri.
The legends of Tripuri says: Once it was a sacred day of Mailuma mutai. People were all busy drinking, dining, dancing and singing. There the Goddess Mailuma appeared in the guise of an old, poor begging lady. Her dress were torn, dirty, hair uncombed, un oiled, wrinkled face, cheeks sulked, skin rogues like an old man. She knocked the entry gate of the home, asked for alms. No one listened her, they were all busy with their drinks and dances only. When house lady saw the old lady she drove her away.
She then moved to another home where two children were playing empty stomach. She asked, 'Where are your parents?' The children replied, 'Mother had gone for in search of wild patato and faather gone to market to get some salt.'
The old woman again said, 'Go, bring your cooking pot.' When the girl brought the rice cooking pot the old woman poured in from her torn bag some rice in to the pot, it became full. She told the girls to cook it, by the time this old woman played with the baby boy. When cooked the girl told the lady and she again gave some vegetables and salts in a pot, which the girl cooked again. This time the girl again came and told the women about it.
The old woman said, 'Bring a plate, and she took out the rice and curry and gave it to eat to children and she also consumed with them. In the evening their mother and father came back, when they got to know of rice being cooked they are astonished and in no time they realized that the old woman is none than the goddess Mailuma in disguise. They asked her to stay in their family with them. In short span of time this family became very rich and wealthy. Every body from the villages got to know about the Goddess Mailuma. The one lady who drove her away slapped her fore head, in no time her family became very poor and had to start begging.
This way the poor family became enough rich and wealthy, one day the old lady banished from that home. The owner of the house both husband and wife cried like children, 'Mother, where have you gone leaving us, why did you make us orphan, please come back again.' Then Goddess appeared before them, and said, 'You make a rondok, keep it full of rice and worship it every day as my symbol. And worship me in grand scake in full moon day after the Osa Mutai.' Goddess Mailuma did not return, since then they started worshipping as Goddess Mailuma in the house every day, placing an earthen pot in the corner of house as rondok. And ever since goddess Laxmi or Mailuma is worshipped by every house of Tripura and hojagiri once in a ear on full moon day following Osa mutai that is Durga puja or Nava Ratri.
Days before Hojagiri preparation starts in every Tripuri house for it. The houses are cleaned in advance of 4-5 days. Every house will prepare flattened rice or Romfe before the Hojagiri day. Generally they would invite each other to family members specially the adult women to make romfe and she would in turn go other house for the same purpose. Now people are going to a rice mill to make their flattened rice. All the families of the village prepare their flattened rice this way and get ready for Hojagiri.
On the day of Laxmi puja or Hojagiri Tripuri children will go out to collect varieties kind of flower in a new or washed flower basket. They will collect best of flowers, banana leaves, etc. The house lady or adult woman will wash the rondok earthen pot. Clean, sweep and white wash the house.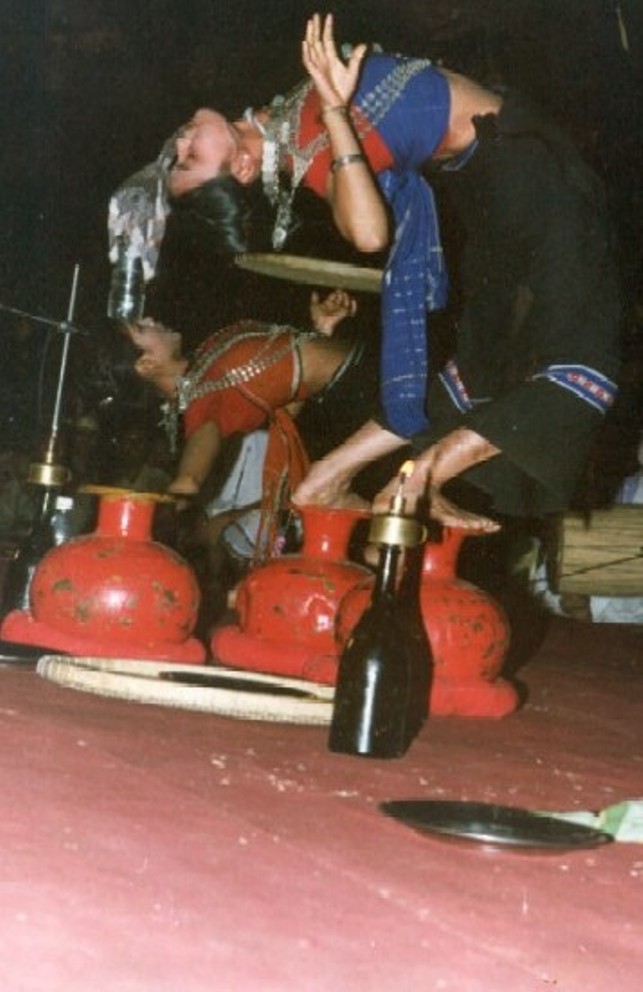 In the evening, when the full moon rises in the sky, the Mailuma puja starts. The rondok pot is filled with new rice, decorated with all the flowers, oil light, incenses sticks are lighted. Prasad of flattened rice is offered along with banana, coconut, sugar, sweets, and cakes are offered. When puja is over the Prasad or offering of the Goddess are distributed to all the family members and guests. This Prasad of Goddess Mailuma is not allowed to carry away from home; it has to be consumed there at that family only.
On this occasion, the Reang community performs Hojagiri dance. It is a balancing dance, involving not only of body but also of mind and spirits. They perform this Hojagiri dance in every villages and people enjoy it throughout night. They take a grand feast, drink, dine, sing and dance. The Hojagiri festival used to continue for days together in the past but now has been reduced to few days.