KHARCHI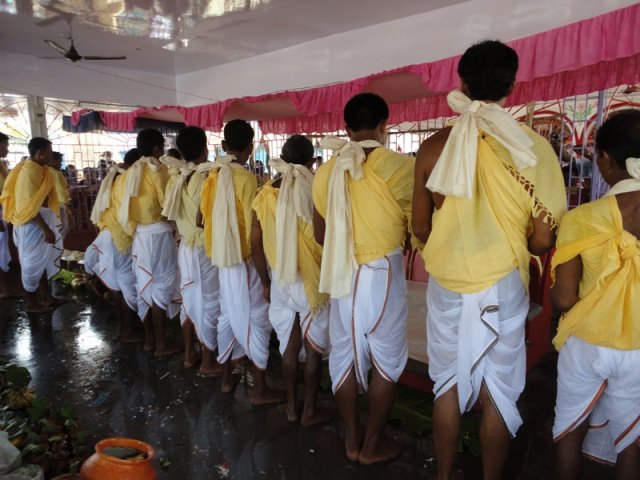 Kharchi puja is the worship of the dynasty deity of Tripuri people, the fourteen gods. It is performed in the month of July August on the eight day of new moon. The fourteen gods are worshipped by the royal priest Chantai. They are all Tripuri by birth, and it is hereditary one. Only members of chantai family descendants are allowed to take the post of Chantai, since the time it had started for more than 3000 years ago, and it is still continuing till date. All the attendants of chantai are also belong to Tripuri people, since the beginning and are followed. This is the only one puja is exclusively performed by the pujari or the priests belonging to Tripuri people.
The word Kharchi is derived from two Tripuri words 'Khar' or Kharta meaning or Sin, 'chi' or si meaning cleaning. Final meaning is cleaning of the sins of the people or the kingdom. The Khachi puja is performed after 15 days of Ama pechi or Ambu bachi. According to Tripuri legends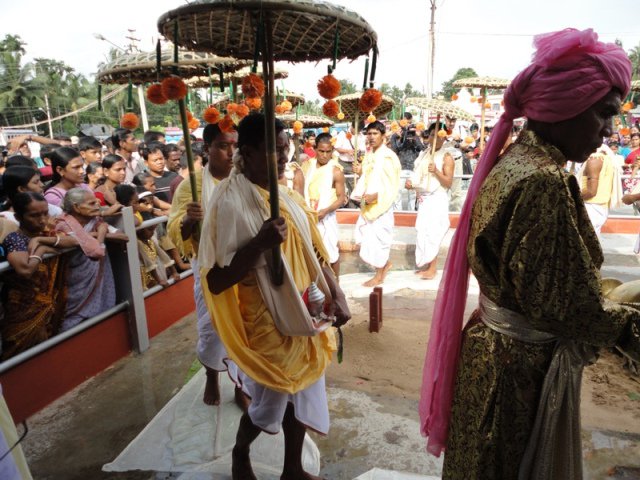 Ama Pechi is menstruation of mother goddess or earth mother. So the soil is not ploughed or digging of any where on this day. Among Tripuri the menstruation of a woman is considered as unholy ness, which is why in this period all the performance auspicious functions by women are prohibited. Even to the extent any priest whose wife is menstruating is prohibited to perform any auspicious or religious function.
So after the menstruation of mother earth during Ama pechi, the earth is considered to become unholy. The kharchi puja is performed to wash out the sins, to clean up the post menstrual uncleanly ness of earth mothers menstruation. That is why it is performed for seven consecutive days.
Kharchi puja lasts for seven days, the festivals is held at Old Agartala, at the temple premises of fourteen gods. On day of puja, the fourteen deities are carried by members of chantai, taken to river Saidra, it is bathed in the holy water and brought back to temple. They are placed in the temple again, decorated by various flowers, put up vermillion in the fore head of deities.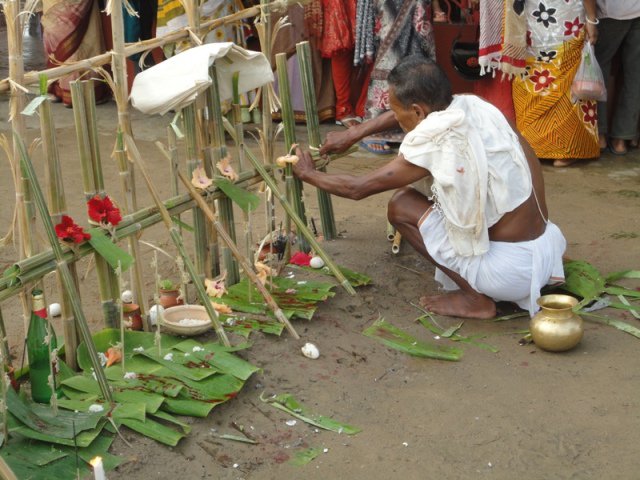 Every day lots of people throng in the festivals both Tripuri and non-Tripuri participate in the festivals. People offer different type so Prasad like goat, buffalo, fouls, sweets etc. now a day many cultural progammes are performed in the night. A large fair is also organized on the occasion. People seek their welfare as well as the welfare of the society and the state in general.