---
Mog Chakma Kukis Darlong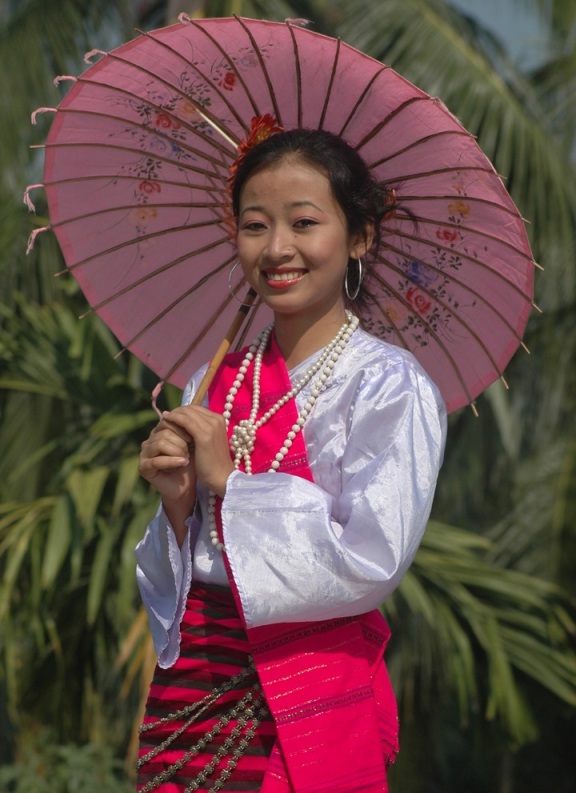 The Mogs are indigenous community of Tripura. They constitute sixth largest indigenous people of Tripura. The Mogs had a dynasty in Arakan, situated in present Myanmar. They had been mentioned in the royal chronicle of Tripura, the Rajmala. There were instances and records of wars between the Arakan king and Tripura kings. They were fierce fighter, and the Mogs was inducted in the Tripura royal forces, there were many soldiers belonging to Mogs community in the past. It is presumed that the Mogs started settling in Tripura since then, almost 5-6 centuries.
The Mogs are basically agriculturist, but now a day they are found to take profession of every modern discipline, from clerk, teacher, officer, doctor, engineer and politicians. They are generally free from any inter communal or intra communal class distinctions. It seems one may reach the top positions in the community by economic solvency or circumstantial factors. As a community the Mogs are very disciplined, self reliant, and peace loving and meek. Maintainances of internal discipline are the distinct responsibility of the head man who in the pas used to lend helping to the king of Tripura by maintaining peace within the community. The Mogs are Buddhist by religion and do not have linking for any form of religion. Though, they have some traditional festivals exclusively followed by Mogs not by any other section of Buddhist.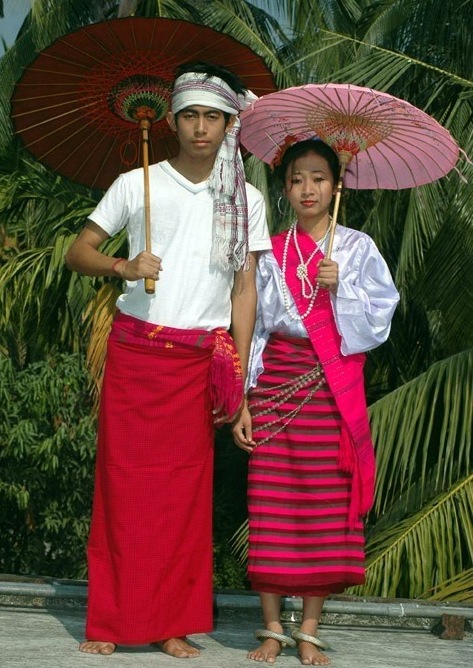 The Mogs women are very industrious, courageous, strong stout, and active like other indigenous people of Tripura. They look after most of the house hold affair, and take care of children and bringing them up. They love to wear colourful dress, gorgeous ornaments, and fascinated to wear flowers.
The Mogs have an organization, which is linked with international Buddhist association. The organization is also running a residential school, enrolled with CBSE, in English medium. It has now classes up to 7th standard, and has plan to upgrade up to college level. They have their own website: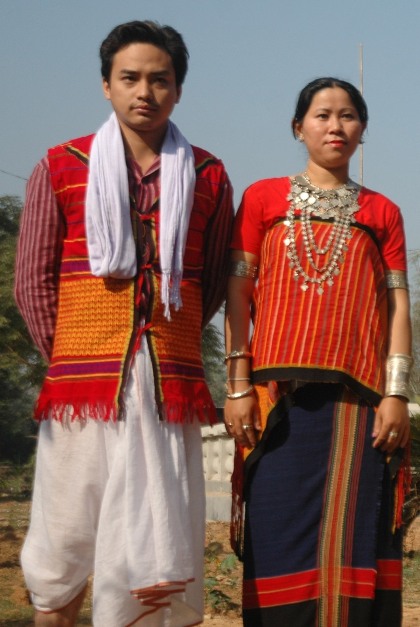 The original home land of Chakma is in the Chitagang hill Tract which is presently in Bangladesh. They are Indo-mongoloid indigenous tribes, who have been marginalized in their home land be cause of communal conflict. The Chakmas are very hard working and industrious, originally their occupation was mainly jhum or shifting cultivation, but had shifted to plain land cultivation for more than centuries. Now a days Chakmas are also not far behind from any other race. They are found to profess in almost all the profession modern times. They are physically little bit shorted than other indo mongoloids. The Chakma practices Buddhism, along with worships their original god and goddess, traditional customs and rituals. Biju is their new year festivals which is celebrated around 15 April every year. Their mother tongue was originally indo-mongoloid but it has been replaced with now Indo-aryan languages. They have their own scripts.
They have been forced to migrate to the safe places in many parts of India because of oppression by non-secular government of Bangladesh. There have been many instances of oppression in recent times. As a result they had been resettled to many parts of India like Mizoram, Tripura, Arunachal Preadesh, and West Bengal.
This Webpage is being updated!