Subrai Khung-lqczkb [kqqa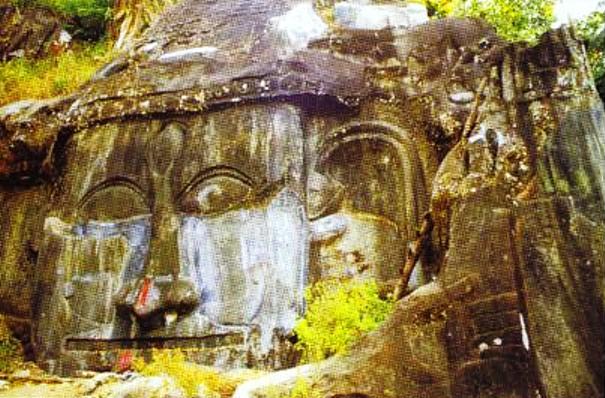 Subrai khung is also known as Unokoti. This is one of the wonderful archeological site in Tripura. It is more than 1500 year old sculpture creation by Tripuri people. There are one less one ten million statues, that is why is Unokoti or Unocrore. There are many mythological stories as stated in different ways about the statues formed in this high land of Tripura. One of them most prevalent among Tripuri people is as follows:-
First king who came to build his kingdom in present location of Tripura was King Jujaru-Fa or also known as Hamtorfa, meaning best man or Purushottam. He was so called as he had all the qualities of humanity, spiritualist, and religious. He first defeated the Lika king ruling over the Rangamati area, and drove him away and snatched the land ruled by that dynasty. After that he established his kingdom and capital at present day Udaipur.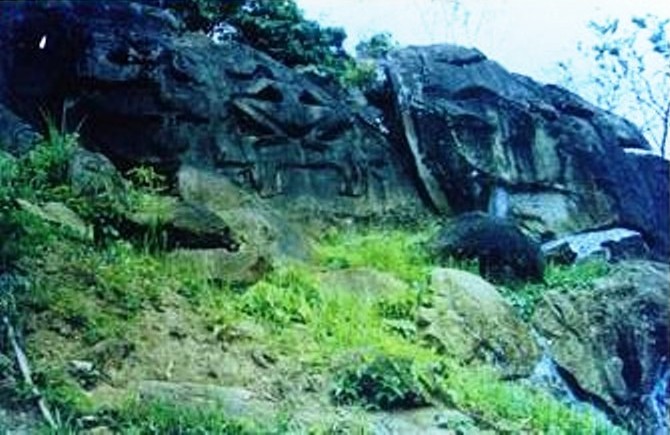 Tripuri people were worshipper of Lord Siva, who lives in the abode of Himalaya. Subrai or Siva is the dynastic god of creator of this universe. So the king wanted to bring him in his present kingdom of Tripura. The Tripura kingdom was earlier located in the Himalaya region of Kumaun, so the Mount Kailash, abode of Siva was just near to the kingdom and Lord would shower all the blessing unto the people of Tripura, but after it was shifted to present location of Tripura the king noticed that Siva has become far from Tripura kingdom, the blessing would not reach to its subjects. So king Hamtorfa wanted to bring Siva to his kingdom. Then he went to Himalaya, sat in yoga and prayed to Lord Siva, as he is soft hearted and easily pleased in time Siva appeared before him, and asked, 'My son, Hamatorfa, what do you want? What are you prying for?'
Hamtorfa knelt down, bowed his head unto HIS feet and asked him, 'My lord, I have shifted my kingdom to far way place, I want to carry you there in my new kingdom, please do come.'
At this the lord said, 'Whom so ever you would prey he will go but you have to construct their statues there at your new kingdom.' The king said he would like to take there one crore god and goddess along with Siva. Lord Siva said 'Be it be there, your desire will be fulfilled.'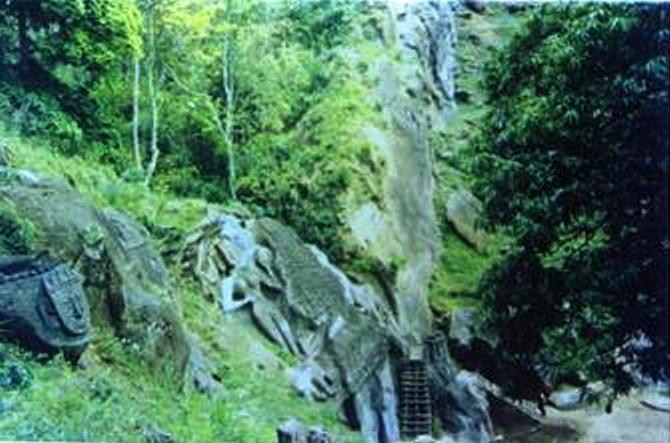 After coming back his kingdom, the king sat is meditation and prayed for years together. Then gradually one by one gods appeared before him, by this time the king ordered his artist to construct statues of those god and goddess. The gods appeared as prayed, this way he directed to construct statues one by one and gradually its number raised to one less ten million statues.
When the king prayed to goddess Ganga, she said to king, 'My son, king Hamtorfa, how I can come to your kingdom, leaving my abode, other wise the whole of rivers of India would dry up. So I can not come, but I will come in another name in disguise.' So the goddess Ganga bestowed him with Gomti in Tripura. That is why king Hamtorfa could not construct ten millionth statue of Gagna, so it became to be known as statues of one less ten million or Unokoti.
As the lord Siva is head of all the gods, so also he was in this statues. Siva's statues is the biggest and most prominent of all and that is why is it known as Subrai khung or abode of Siba by the Tripuri people. As they could not bring kailash, the abode of Siva here in present Tripura so they built abode of Siva or Subrai khung here.
There are numerous statutes of known and unknown gods and goddess in this Subrai Khung. As the legends goes there are ten million statues scattered all over the hills in Subrai Khung near Kailasahar town. Many of the statues are dilapidated conditions because of its age and non maintenance. Big trees of baniyan had grown in most statues had broken down. Rain, earth quack, water fall and vegetation had ruined the once a holy place of Tripura. Its importance as sacred place has come down, but not totally. Still every year on the Ahoka Ashtami day a fair is held for seven days. many pilgrimage still do visit this site. There is a small natural pond there in Subrai khung. People still consider taking baht in this natural tank is holy and washes away all the sins of once life.